Last Concert, Sunday Afternoon September 4
Buy tickets at the door.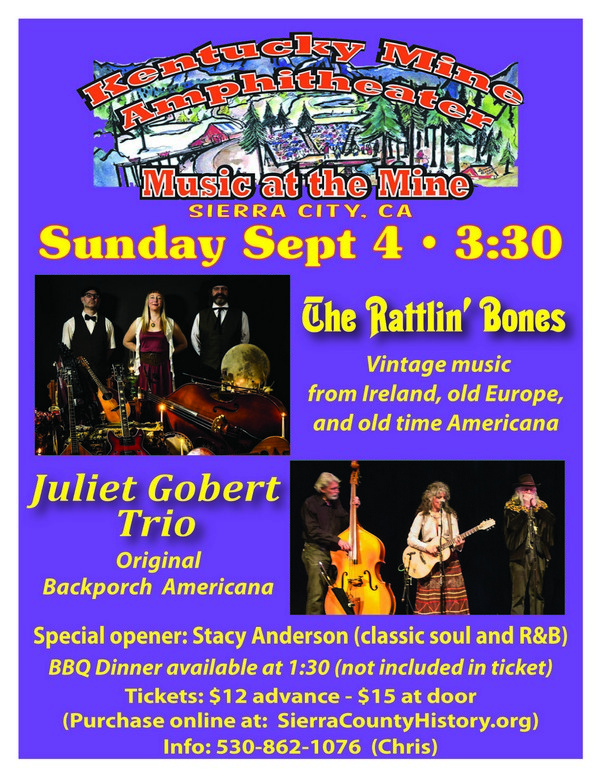 2016 Summer Program

Mumbo Gumbo is co-sponsored by the Sierra County Arts Council.
DANCE THE NIGHT AWAY!
BBQ Dinner
The Red Moose Café of Sierra City will cater a pre-concert BBQ starting 90 minutes prior to the start of all five concerts. BBQ offering is a full dinner for $16 (not included in concert ticket price). Those attending the concert(s) are also welcome to bring their own "picnic dinners".
Saturday, June 25 at 7:30pm – James Carlson & the Steadyhand – Americana/Country Rock  
Saturday, July 9 at 7:30pm – Mumbo Gumbo – Zydeco/Soul Rock/World Fusion/R & B  
Saturday, July 30 at 7:30pm – Bob Mora & the 3rd Degree Blues Band- Chicago Blues 
Saturday, August 20 at 7:30pm – Bob Woods & Swampbilly-Cajun/Country/Blues/Rock 
Sunday, September 4th at 3:30 – "An Acoustic Afternoon" Three talented Americana, Folk and Celtic influenced artists featuring the Juliet Gobert Band, the Rattlin' Bones and Stacy Anderson.
Mumbo Gumbo featured show adult tickets are $22 advance/$25 door ~ Kids aged 6-17, $15  ~  Kids under 6 years are free with ticketed adult
All other shows are adults $12 advance/$15 door ~ Kids aged 6-17, $8
~  Kids under 6 years are free with ticketed adult
In the interest of time, we do not mail tickets. Instead, your tickets will be held at the ticket booth under the name of the purchaser. Please bring your receipt or email confirmation.
and

Tickets are now available at these outlets:
Purchase adult tickets from one of the following Sierra/Plumas County retailers/organizations.  Kids' tickets are available online or at the door.
Sierra Country Store, Sierra City / Graeagle Mill Works, Graeagle
Sierra Valley Feed & Ranch Supply, Sierraville / Downieville Day Spa, Downieville
Feather River Food Co-op, Portola /Loyalton Pharmacy & Flower Shop, Loyalton
Kentucky Mine Museum, Sierra City
Questions? Contact Chris Stockdale at cstockrock
gmail
com or (530) 862-1076