You're Invited …
Annual Historical Society Picnic … Update!
Sunday, September 13 at 1:00 pm
You and your guests are invited to attend our annual picnic and meeting at Tin Cup Diggin's Park in Downieville on Sunday, September 13 at 1:00 PM. Lunch will be DIY deli sandwiches and is free for members and $10 for guests.
Reservations are required. Please RSVP to Mary Nourse at 530-862-1123 or mnourse46
gmail
com (mnourse46
gmail
com) by this Friday, Sept. 11.
Tin Cup Diggin's is between the Downie River bridge and the Masonic Building, 199 Commercial St. (Hwy. 49).
Local historian, Cory Peterman, will be conducting a walking tour of Downieville and self-guided tour brochures will be provided so you can stroll around town at your leisure. Please join us.
Kentucky Mine Historic Park and Museum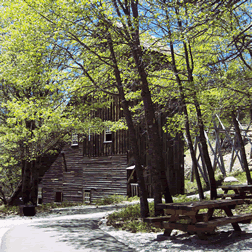 When the Kentucky Mine stamp mill was up and running at its maximum, you could hear the ten 1,000-pound stamps crushing gold-veined quartz ore for miles around. In fact, the din of the several stamp mills operating near Sierra City during the gold rush days of the 1800s was so uproarious that people had to get inside somewhere in order to carry on a conversation!