Don't miss this show! ~ Saturday, July 29 at 7:30 p.m.
Tickets are available online and at the door.
Museum and Park Caretaker Needed
Sierra County Historical Society is seeking a year-round, live-in caretaker for the Kentucky Mine Museum and Park in Sierra City. The position entails maintenance, security, minor repairs, and occasional assistance with events. The two-bedroom apartment above the museum will be provided at a reasonable rental rate, with several hours of in-kind work per month required.

Job description: Caretaker Job Description

Please complete the SCHS application for employment and postmark it by August 11 to:

SCHS
P.O. Box 260
Sierra City, CA 96125

OR print, sign, scan and email the signed application.

For more information, contact Mary Nourse at 530-862-1123 or by email.
Kentucky Mine Historic Park and Museum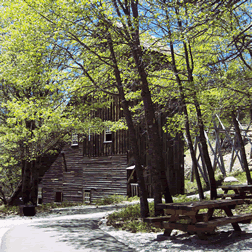 When the Kentucky Mine stamp mill was up and running at its maximum, you could hear the ten 1,000-pound stamps crushing gold-veined quartz ore for miles around. In fact, the din of the several stamp mills operating near Sierra City during the gold rush days of the 1800s was so uproarious that people had to get inside somewhere in order to carry on a conversation!