Are you ready for some Mumbo Gumbo?
Get yourselves up the the Kentucky Mine and Museum July 11 at 7:30 pm for the must-see-and-hear concert of the season when Mumbo Gumbo rocks the amphitheater once again!  A Music at the Mine favorite for many years, Mumbo Gumbo never fails to get concertgoers off their seats and on their feet with their unique instrumental arrangements and talented ensemble of musicians.  From rock to soul, afropop to lush balladry, Zydeco to country, Mumbo Gumbo creates a sound that is sheer joy!  At just $25 per person, the concert offers incredible music at an amazing under-the-stars venue.  Tickets are available online or at local businesses.
The BBQ is back!
Don't forget to bring your appetite for the finger lickin' good BBQ by When Pigs Fly featuring tri-tip and rotisserie chicken with all the fixin's!  Starting at 6 pm, the cost of the BBQ is $17.  Reservations are encouraged, please call Lee Wright at 530-414-1257.
Kentucky Mine Historic Park and Museum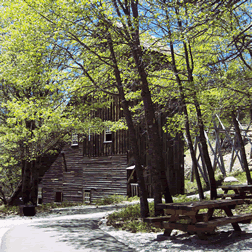 When the Kentucky Mine stamp mill was up and running at its maximum, you could hear the ten 1,000-pound stamps crushing gold-veined quartz ore for miles around. In fact, the din of the several stamp mills operating near Sierra City during the gold rush days of the 1800s was so uproarious that people had to get inside somewhere in order to carry on a conversation!