2017 Music at the Mine Tickets
Chris Stockdale has a great lineup with five exhilarating bands. Celtic, Soul Rock, R&B, Zydeco, Americana, Roots Rock n Roll, Hi-Octane Country, Cowboy Music – something for everyone. More information and tickets here
For a limited time, we're offering transferable Season Tickets this year for $75 so contact Chris at (530) 862-1076 if you're interested in this deal and save $30.
This year we're trying something new and using Eventbrite for ticket sales. We hope you'll like the new format. Help us learn about this new tool by emailing any errors or suggestions to Cindy (webmaster
sierracountyhistory
org) .
Kentucky Mine Historic Park and Museum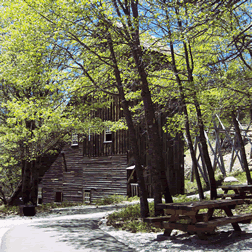 When the Kentucky Mine stamp mill was up and running at its maximum, you could hear the ten 1,000-pound stamps crushing gold-veined quartz ore for miles around. In fact, the din of the several stamp mills operating near Sierra City during the gold rush days of the 1800s was so uproarious that people had to get inside somewhere in order to carry on a conversation!